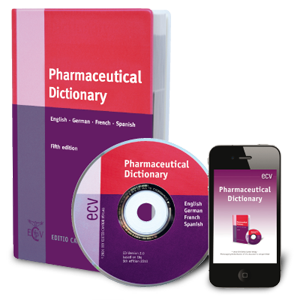 Online Pharmaceutical Dictionary in English, German, French,
Spanish, Chinese and Russian
Multi-language dictionary of over 7,000 pharmaceutical terms. Based on original English publications in close orientation to European pharmacopeia and EMA, EU, ICH and GMP guidelines.
Sold over 8,000 times in book and CD form over the past 20 years, the Pharmaceutical Dictionary published by Editio Cantor Verlag has established itself a firm place as the standard dictionary of the pharmaceutical industry. The current edition contains 7,000 terms in each language (English, German, French, Spanish and (online only) Chinese and Russian) and is helpful in communication with international colleagues and in reading specialized literature or doing translation work.
The online Pharmaceutical Dictionary is intuitive in use. On registration you will see a list of all terms in the six languages in alphabetic order. If you enter the word you are looking for in the Search Term box, matches begin to appear as you key in the letters, meaning you don't need to finish typing to find what you need (assuming the word is contained in the dictionary). Partial searches are also possible with the Full Text Search option, and specification of language is not required. Tapping "i" leads to information on the dictionary's editors, publisher, sponsors, etc., while "Previous" returns you to the previous menu item or closes the application.
Search results are hyperlinked to Wikipedia definitions wherever possible, and if a term is not explained in Wikipedia, you are notified respectively. "Previous" will return you to the previous menu item.
As a special feature, the online version of the Pharmaceutical Dictionary enables you to drag & drop terms from the dictionary to a word processing file.
Our thanks go to
BASF
,
GEMÜ
,
medax
and
PDA
for sponsoring the online Pharmaceutical Dictionary application.